Web analytics services
Visits to your website are an asset you should make the most of. Each and every one has taken hard work, online marketing and investment. So you want to profit from them and take control of the evolution of trends. In order to improve something, you must first measure it, and web analytics allow us to do just that. You can understand how your users behave on your website and identify improvements. At Insitus, we have web analysts with in-depth knowledge of IT and analytics.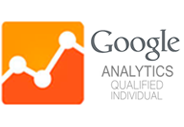 Defining your strategy
Implementation
Control panels
Multi-channel analysis
Reporting
Google Analytics is the hero of web analytics tools, not to mention that it works seamlessly with other Google services like Google Ads. Once Google Analytics is setup, we can create insights and objectives, enable e-commerce, and track and analyse its tools thanks to our web analytics experts.
Contact us about web analytics services
Web analytics planning
Google Analytics setup
Search console (Webmaster Tools) configuration
Linking to other web properties
Monthly or quarterly tracking
Web analytics reports
Advanced and customised dashboards