Web Development
Creating a website from scratch involves much more than just design. A global web strategy is required to ensure its success.
Do you need a corporate website, a lead-generating site, or an e-commerce page?
Your website needs to deliver more than simply explaining what your business is.
Our Developers work closely with experts in online strategies and can deliver more for the same effort.

Website Development Options:
Custom-made: Our in-house system that can be tailored to your needs and where you can make changes to content.
Wordpress: If you're already familiar with Wordpress, we can develop your website using this well-known platform
Typo3: A robust platform with great functionality - ask us for more information about this option
Prestashop: This one's for you if you want to set up an automated online shop or e-commerce site.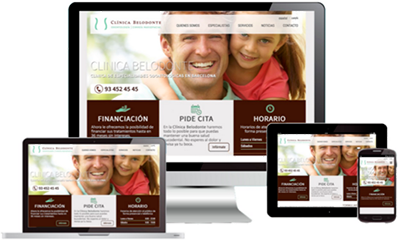 Why choose us for your website development?
For three principle reasons:
We take care of much more than just the programming. We develop websites based on the four pillars of success;
strategy, web design, content, and quality programming, in this order to maximise possibilities.
We're adaptable. And we hate projects that go on forever, which is why if your website isn't delivered in three weeks you'll receive a 50% discount on the price.
A fundamental part of creating a website is to create the right page structure. One of your site's visitors will be Google and it must be able to crawl your site easily. We know a lot about search engines, especially Google.
With your well built website focused on sales, prepare for impressive results.

Website strategy plan.
Corporate website development.
Adapting your website for viewing on mobile-devices like phones and tablets.
Community and forum websites.
Websites to attract new customers.
Personal or corporate blogs.